| | | |
| --- | --- | --- |
| | Video Transmitter Module - Product information | |
| | | |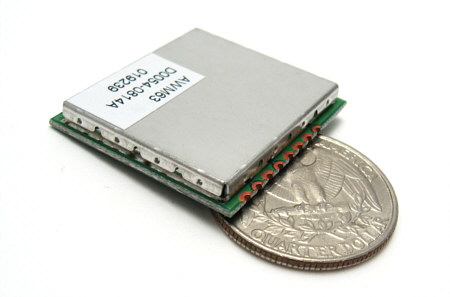 Short product information for CatCam® Live Video Transmitter Module AWM633TX:

This compact module of 1.2x1.1x0.15 inches (31x29x4mm) transmitts the signal of a CCTV camera or any other video source on the 2.4GHz IMS band. 4 channels can be selected. The high transmission power of 500mW allows large distances (as a comparison: regular wireless cameras are operated at 10mW). This well known module from Airwave Technology is used in avionic or surveilance applications. It transmitts one video signal and two independend audio channels which can also be used as data channels. The supply voltage is 3.3V.

Note: the high transmission power is not legal in all countries !

Note: please do not operate this module without antenna.

Note: Although the module should be compatible with any 2.4GHz receiver, it is recommended to use Airwave receiver modules or receiver stations to receive the video signal.

Resources: AWM633TX Datasheet, Example schematics for transmitter and receiver modules.